In order to make sure you have the best fit with your Saddle, we have 2 qualified Saddle Fitters who are registered with the Society of Master Saddlers and have a wealth of experience between them. Andy holds the title of Master Saddle fitter, the highest qualification available from the Society of Master Saddlers, and Jenni, who trained with Andy and Kirsty, is a fully qualified fitter.
We understand just how important it is that the horse has a good fitting saddle. An ill fitting Saddle will cause issues for both rider & horse and that is why we take the time to ensure that the saddle is not only fitting the horse correctly but also fitting the rider correctly. We offer unbiased, honest advice – our aim is to achieve the best fit possible for both you and your horse
We offer a comprehensive saddle fitting service including reflocking and alterations. Our saddle fitting service is available at our premises at John O Gaunt, where we have a good sized menage, a showroom displaying all our saddles and an on-site workshop OR if you are located within a 35 mile radius we can visit you at your premises. We will happily asses both saddles we have previously sold, and saddles we have not seen before and offer professional unbiased advice.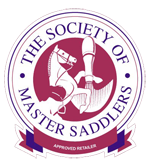 The Saddle Fitting Process
We like to do a detailed phone interview with the rider in the initial stages of booking a fitting – that way we can make sure we have relevant details about you, your horse and your usage requirements.
At the fitting itself, we template your horse and fill out a fitting sheet with records of you and your horse, one copy of which you can keep. We observe your horse both stationary and being ridden. Ideally we like to see your horse being ridden in walk, trot and canter on both reins on a flat surface and possibly over a jump if you are buying a jump saddle, however, we understand that this is not always possible.
We offer our saddle fitting service here at John O'Gaunt or at your premises. At John O Gaunt we have a full-size ménage, a shop full of saddles, an onsite workshop and a large car park with plenty of room for turning. You should allow 1.5 – 2 hours for a new saddle fitting and 45 minutes – 1.25 hours for a refit.
It is important to us that you are happy with your Saddle and fit. When you buy a saddle from Milners you can be confident that we will fit it, and be happy to check it regularly and make any alterations to keep it fitting correctly. If you have any concerns or questions about your saddle, the saddle fitter will be more than happy to discuss them with you to determine the best course of action.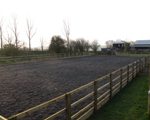 Our ménage at John O'Gaunt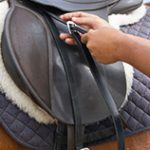 At Our Premises in John O'Gaunt:
New saddle – £35 (refunded if saddle purchased)
Checking existing saddle fit – First saddle £55, there is a charge of £20 for each additional saddle plus any alteration costs.
At Your Premises/Yard:
New saddle – £35 fitting & travelling expenses (55p per return mile)
Saddle check – Within 10 miles of John O Gaunt – £65.00.
Saddle check – 10 miles & over from John O Gaunt – £65 per horse & 55p per return mile travelling expenses (mileage is calculated from John O Gaunt to your premises). £20 for second saddle on the same horse.
 Alteration costs will be advised at the time – these vary from £10
For fittings at John O'Gaunt please remember to bring with you a hat, bridle and any numnahs/pads that you wish to use. Please allow a full 1.5-2 hours for a new saddle and 30 minutes-1 hour for a refit.
We keep a wide range of new Saddles to suit all disciplines and to suit both the professional and the amateur rider.
Brands/makes of saddles that we stock include Albion, Ideal,  Equipe, Prestige, Fairfax, Kent & Masters, John Whitaker,  Bates, Arena
Please view our online catalogue here on this website
We  have a limited number of second hand leather saddles for sale, stock of which is ever changing, so please call us to find out if we have anything suitable to match your requirements. Our secondhand saddles are all very good quality and are generally priced from £600 upwards.