Milner's Saddlery Workshop
Our workshop is managed by Dave Kuhn who is an integral member of the Milners family business and Dave's father also worked at Milners for many years before him. Dave has been working at Milners for 40 years, he is one of the finest craftsmen in the trade and is a registered Master Saddler. Over the years Dave has designed and made many extraordinary items which included in 2012 designing and making the bridle that Sophie Wells used at the Paralympics.
Our on-site workshop provides a repair and made to measure service. We make our own bridlework from the best quality English leather including bridles, reins, stirrup leathers, breastgirths and martingales. Our range of stirrup leathers, including our Buffalo hide stirrup leathers, and reins are well known and used by local hunting customers as they are strong and made to last.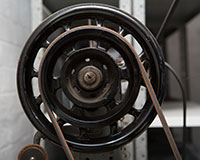 Our tack repairs are carried out to the highest standard and include restitching, rebuilding saddles, shortening bits of bridlework, rug repairs, even handbag and briefcase repairs.
Please call us on 01664 454839 with your requirements and for a quote.
Our workshop is open by appointment from Tuesday – Friday 10am – 5pm. Please phone us.